Frequently Asked Questions
Q: Can I complete the new patient forms before my first appointment?
A: Yes, you can download and print the forms on the new patient forms page. Please fill them out and bring them with you to your first appointment
---
Q: Which dental insurance plans do you accept?
A: Details about plans are listed on our office policies and insurance pages.
---
Q: What do I do if I have a dental emergency?
A: Call our office any time you have a dental emergency. Dr. Hill can be reached on his cell 801-376-2864.
---
Q: What if I need to reschedule my appointment?
A: In order to provide the best dental treatment, we schedule the appropriate amount of time for each patient's treatment. We understand that emergencies arise and sometimes you may need to reschedule your appointment. If you would please provide us 48 hours notice so that we can offer that appointment time to another patient we would greatly appreciate it.
---
Q: What can I do to whiten my teeth?
A: If regular brushing and flossing aren't giving you the white smile you desire, our office has options to bleach or whiten your teeth.
Our teeth can stain or darken externally from such things as; smoking, coffee, tea, sodas, wine and of course tooth decay. These stains can usually be removed with a dental cleaning or a dental filling.
Our teeth can also darken from the inside. This is a natural part of the aging process. As we age, our dentin (the inner part of our tooth) becomes denser. Unfortunately, our dentin is a yellowish color, so as it becomes more dense our teeth appear dull and yellow. Some medications taken as a child while the teeth are still forming can also darken or discolor our teeth internally.
Professional teeth whitening (or bleaching) is the least invasive way to lighten teeth.
At Wendover Dental Care we offer the following:
Professional teeth whitening systems:
Home teeth whitening systems: At-home products usually come in a gel form that is placed in a custom-fitted mouthguard (tray), created from a mold of your teeth. The trays are worn either twice a day for approximately 30 minutes, or overnight while you sleep. It usually will take several weeks to achieve the desired results depending on the degree of staining and the desired level of whitening.
In office teeth whitening: This treatment is done in the dental office and you will see results immediately. It may require more than one visit, with each visit lasting approximately 60 minutes. While your gums are protected, a bleaching solution is applied to the teeth. A special light may be used to enhance the action of the bleaching agent while the teeth are whitened.
In office and take home trays together: Using both systems together is the best bleaching option to achieve a whiter smile faster and maintain your new brighter smile longer.
Some patients may experience tooth sensitivity after having their teeth whitened. This sensation is temporary and subsides shortly after you complete the bleaching process, usually within a few days to one week.
Over-the-counter teeth whitening systems
There are a variety of products available on the web, television, and in stores. Some are one size fits all trays, whitening strips, toothpastes, etc. These products may appear similar to the ones used in the dental office but they have a lower percentage of the bleaching agent, thus meaning you will need to use more product and for a longer period of time to achieve a whiter smile. In the long run you will spend more time and money than you would for professional whitening. Always use these products according to the directions.
Teeth whitening can be very effective and can give you a brighter, whiter, more confident smile!
---
Q: How often should I visit the dentist?
A: You should have your teeth checked and cleaned at least twice a year, though your dentist may recommend more frequent visits.
Regular dental exams and cleaning visits are essential in preventing dental problems and maintaining the health of your teeth and gums. At these visits, your teeth are cleaned and checked for cavities. Additionally, there are many other things that are checked and monitored to help detect, prevent, and maintain your dental health. These include:
Medical history review: Knowing the status of any current medical conditions, new medications, and illnesses, gives us the insight to your overall health and also your dental health.
Examination of diagnostic x-rays (radiographs): Essential for detection of decay, tumors, cysts, and bone loss. X-rays also help determine tooth and root positions.
Oral cancer screening: Check the face, neck, lips, tongue, throat, tissues, and gums for any signs of oral cancer.
Gum disease evaluation: Check the gums and bone around the teeth for any signs of periodontal disease.
Examination of tooth decay: All tooth surfaces will be checked for decay with special dental instruments.
Examination of existing restorations: Check current fillings, crowns, etc.
Removal of calculus (tartar): Calculus is hardened plaque that has been left on the tooth for some time and is now firmly attached to the tooth surface. Calculus forms above and below the gumline, and can only be removed with special dental instruments.
Removal of plaque: Plaque is a sticky, almost invisible film that forms on the teeth. It is a growing colony of living bacteria, food debris, and saliva. The bacteria produce toxins (poisons) that inflame the gums. This inflammation is the start of periodontal disease!
Teeth polishing: Removes stain and plaque that is not otherwise removed during toothbrushing and scaling.
Oral hygiene recommendations: Review and recommend oral hygiene aids as needed (electric dental toothbrushes, special cleaning aids, fluorides, rinses, etc.)
Review dietary habits: Your eating habits play a very important role in your dental health.
As you can see, a good dental exam and cleaning involves quite a lot more than just checking for cavities and polishing your teeth. We are committed to providing you with the best possible care, and to do so will require regular check-ups and cleanings.
---
Q: How often should I brush and floss?
A: Brush your teeth twice a day, with a soft-bristled brush. The size and shape of your brush should fit your mouth, allowing you to reach all areas easily. Use toothpaste that contains fluoride, which helps protect your teeth from decay. When choosing any dental product, look for the American Dental Association Seal of Acceptance, an important symbol of a dental product's safety and effectiveness.
Cleaning between the teeth once a day with floss removes plaque from between the teeth, areas where the toothbrush can't reach. It is essential in preventing periodontal (gum) disease.
By taking care of your teeth, eating a balanced diet and visiting your dentist regularly, you can have healthy teeth and an attractive smile your entire life. Follow these tips to keep your teeth and mouth clean.
Proper Brushing Technique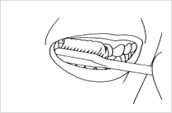 Place your toothbrush at a 45-degree angle against the gums.
Move the brush back and forth gently in short (tooth-wide) strokes.
Brush the outer tooth surfaces, the inner tooth surfaces, and the chewing surfaces of the teeth.
Use the "toe" of the brush to clean the inside surfaces of the front teeth, using a gentle up-and-down stroke.
Brush your tongue to remove bacteria and freshen your breath.
Proper Flossing Technique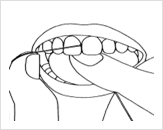 Break off about 18 inches of floss and wind most of it around one of your middle fingers. Wind the remaining floss around the same finger of the opposite hand. This finger will take up the floss as it becomes dirty. Hold the floss tightly between your thumbs and forefingers.
Guide the floss between your teeth using a gentle rubbing motion. Never snap the floss into the gums.
When the floss reaches the gum line, curve it into a C shape against one tooth. Gently slide it into the space between the gum and the tooth.
Hold the floss tightly against the tooth. Gently rub the side of the tooth, moving the floss away from the gum with up and down motions.
Repeat this method on the rest of your teeth.
Don't forget the back side of your last tooth.
---
Q: What causes bad breath?
A: Whether you call it bad breath or halitosis, it's an unpleasant condition that's cause for embarrassment. Some people with bad breath aren't even aware there's a problem. If you're concerned about bad breath, see your dentist. He or she can help identify the cause and, if it's due to an oral condition, develop a treatment plan to help eliminate it.
What you eat affects the air you exhale. Certain foods, such as garlic and onions, contribute to objectionable breath odor. Once the food is absorbed into the bloodstream, it is transferred to the lungs, where it is expelled. Brushing, flossing and mouthwash will only mask the odor temporarily. Odors continue until the body eliminates the food. Dieters may develop unpleasant breath from infrequent eating.
If you don't brush and floss daily, particles of food remain in the mouth, collecting bacteria, which can cause bad breath. Food that collects between the teeth, on the tongue and around the gums can rot, leaving an unpleasant odor.
Bad breath can also be caused by dry mouth (xerostomia), which occurs when the flow of saliva decreases. Saliva is necessary to cleanse the mouth and remove particles that may cause odor. Dry mouth may be caused by various medications, salivary gland problems or continuously breathing through the mouth. If you suffer from dry mouth, your dentist may prescribe artificial saliva, or suggest using sugarless candy and increasing your fluid intake.
Tobacco products cause bad breath. If you use tobacco, ask your dentist for tips on kicking the habit.
Bad breath may be the sign of a medical disorder, such as a local infection in the respiratory tract, chronic sinusitis, postnasal drip, chronic bronchitis, diabetes, gastrointestinal disturbance, liver or kidney ailment. If your dentist determines that your mouth is healthy, you may be referred to your family doctor or a specialist to determine the cause of bad breath.
Maintaining good oral health is essential to reducing bad breath. Schedule a regular dental visit for a professional cleaning and checkup. If you think you have constant bad breath, keep a log of the foods you eat and make a list of medications you take. Some medications may play a role in creating mouth odors. Let your dentist know if you've had any surgery or illness since your last appointment.
Brush twice a day with fluoride toothpaste to remove food debris and plaque. Brush your tongue, too. Once a day, use floss to clean between the teeth.
Mouthwashes are generally cosmetic and do not have a long-lasting effect on bad breath. If you must constantly use a breath freshener to hide unpleasant mouth odor, see your dentist. If you need extra help in controlling plaque, your dentist may recommend using a special antimicrobial mouth rinse.
---
Q: What can I do to prevent bad breath?
A:
Practice good oral hygiene — Brush at least twice a day with an ADA approved fluoride toothpaste and toothbrush. Floss daily to remove food debris and plaque from in between the teeth and under the gumline. Brush or use a tongue scraper to clean the tongue and reach the back areas. Replace your toothbrush every 2 to 3 months. If you wear dentures or removable bridges, clean them thoroughly and place them back in your mouth in the morning.
See your dentist regularly — Get a check-up and cleaning at least twice a year. If you have or have had periodontal disease, your dentist will recommend more frequent visits.
Stop smoking / chewing tobacco — Ask your dentist what they recommend to help break the habit.
Drink water frequently — Water will help keep your mouth moist and wash away bacteria.
Use mouthwash / rinses — Some over-the-counter products only provide a temporary solution to mask unpleasant mouth odor. Ask your dentist about antiseptic rinses that not only alleviate bad breath, but also kill the germs that cause the problem.
In most cases, your dentist can treat the cause of the bad breath. If it is determined that your mouth is healthy, but bad breath is persistent, your dentist may refer you to your physician to determine the cause of the odor and an appropriate treatment plan.
---
Q: What is "dry mouth"?
A: Reduced saliva flow — or dry mouth — can be caused by a number of conditions. It doesn't sound very serious but left untreated, dry mouth can damage your teeth and gums. Some medications can lead to dry mouth such as antihistamines, decongestants, pain killers and diuretics.
We can help find the source of your dry mouth and recommend methods to restore moisture to your mouth. Once the cause is determined, we will recommend a treatment for you, such as artificial saliva, using sugarless hard candy and increasing fluid intake.
---
Q: What causes cavities?
A: Your teeth are covered with a sticky film of bacteria called plaque. Following a meal or snack, the bacteria release acids that attack tooth enamel. Repeated attacks can cause the enamel to break down, eventually resulting in cavities. Plaque that is not removed with thorough daily brushing and flossing can eventually harden into calculus or tartar. Brushing and flossing the teeth becomes more difficult when tartar collects above the gum line. The gum tissue can become swollen or may bleed. This is called gingivitis, the early stage of periodontal (gum) disease.
Preventing Decay
Brush your teeth twice a day with fluoride toothpaste.
Clean between teeth daily with floss.
Eat a balanced diet and limit between-meal snacks.
Visit your dentist regularly for professional cleanings and oral exams.
Ask your dentist about dental sealants, a protective plastic coating that can be applied to the chewing surfaces of the back teeth where decay often starts.
---
Q: Is flossing really that important?
A: Most people brush their teeth daily, but very few floss their teeth daily. Our toothbrush can remove food and plaque from our teeth and gums everywhere except between our teeth. The majority of cavities filled in most dental offices originate between the teeth.
Daily flossing is the best way to clean between the teeth and under the gumline between the teeth. This is important in preventing cavities, but it also prevents the build up of bacterial colonies that damage the gums and bone surrounding the teeth.
Proper Flossing Technique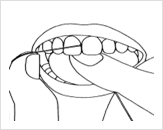 Break off about 18 inches of floss and wind most of it around one of your middle fingers. Wind the remaining floss around the same finger of the opposite hand. This finger will take up the floss as it becomes dirty. Hold the floss tightly between your thumbs and forefingers.
Guide the floss between your teeth using a gentle rubbing motion. Never snap the floss into the gums.
When the floss reaches the gum line, curve it into a C shape against one tooth. Gently slide it into the space between the gum and the tooth.
Hold the floss tightly against the tooth. Gently rub the side of the tooth, moving the floss away from the gum with up and down motions.
Repeat this method on the rest of your teeth.
Don't forget the back side of your last tooth.
---
Q: How can I tell if I have gum disease?
A: Periodontal (gum) disease is an infection of the tissues surrounding and supporting the teeth. It is a major cause of tooth loss in adults. Because periodontal (gum) disease is usually painless, however, you may not know you have it.
Periodontal (gum) disease is caused by plaque, a sticky film of bacteria that constantly forms on the teeth. These bacteria create toxins that can damage the gums.
In the early stage of periodontal (gum) disease, called gingivitis, the gums can become red, swollen and bleed easily. At this stage, the disease is still reversible and can usually be eliminated by daily brushing and flossing.
In the more advanced stages of periodontal (gum) disease, called periodontitis, the gums and bone that support the teeth can become seriously damaged. The teeth can become loose, fall out or have to be removed by a dentist.
What are the signs of periodontal (gum) disease?
Gums that bleed when you brush your teeth
Red, swollen or tender gums
Gums that have pulled away from the teeth
Bad breath that doesn't go away
Pus between your teeth and gums
Loose teeth
A change in the way your teeth fit together when you bite
Change in the fit of partial dentures
Some factors increase the risk of developing periodontal disease:
Tobacco smoking or chewing
Systemic diseases such as diabetes
Some types of medication such as steroids, some types of anti-epilepsy drugs, cancer therapy drugs, some calcium channel blockers and oral contraceptives
Bridges that no longer fit properly
Crooked teeth
Fillings that have become defective
Pregnancy or use of oral contraceptives
---
Q: Are "baby teeth" that important?
A: Your child's baby teeth are important. Children need strong, healthy teeth to chew their food, speak and have a good-looking smile. Baby teeth also keep a space in the jaw for the adult teeth. If a baby tooth is lost too early, the teeth beside it may drift into the empty space. When it's time for the adult teeth to come in, there may not be enough room. This can make the teeth crooked or crowded. Starting infants off with good oral care can help protect their teeth for decades to come.
Your child's baby teeth are at risk for decay as soon as they first appear-which is typically around age six months. Tooth decay in infants and toddlers is often referred to as Baby Bottle Tooth Decay or Early Childhood Caries (cavities). It most often occurs in the upper front teeth, but other teeth may also be affected. In some unfortunate cases, infants and toddlers have experienced decay so severe that the teeth cannot be repaired and need to be removed. The good news is that decay is preventable. Tooth decay is a disease that begins with cavity-causing bacteria being passed from the mother (or primary caregiver) who has these bacteria in their mouth to the infant. These bacteria are passed through the saliva. When the mother puts the baby's feeding spoon in her mouth, or cleans a pacifier in her mouth, the bacteria are passed to the baby.
Another factor for tooth decay is the frequent, prolonged exposure of the baby's teeth to liquids that contain sugar, like sweetened water and fruit juice and potentially milk, breast milk and formula. Tooth decay can occur when the baby is put to bed with a bottle, or when a bottle is used as a pacifier for a fussy baby. The sugary liquids pool around the teeth while the child sleeps. Bacteria in the mouth use these sugars as food. They then produce acids that attack the teeth. Each time your child drinks these liquids, acids attack for 20 minutes or longer. After multiple attacks, the teeth can decay.
Pacifiers dipped in sugar or honey can also lead to tooth decay since the sugar or honey can provide food for the bacteria's acid attacks.
Infants and toddlers who do not receive an adequate amount of fluoride may also have an increased risk for tooth decay since fluoride combines with the outer covering of the tooth (enamel) and makes the tooth more resistant to the acid attack.
The good news is that tooth decay is almost completely preventable. You can help prevent tooth decay for your child by following the tips below:
Lower the risk of the baby's infection with decay-causing bacteria. This can be done two ways — by improving the oral health of the mother/caregiver which reduces the number of bacteria in her mouth and by not sharing saliva with the baby through common use of feeding spoons or licking pacifiers and giving them to babies.
After each feeding, wipe the baby's gums with a clean, damp gauze pad or washcloth. This will remove plaque and bits of food that can harm erupting teeth. When your child's teeth begin to erupt, brush them gently with a child size toothbrush and water. (Consult with your child's dentist or physician if you are considering using fluoride toothpaste before age two.)
When your child can be counted on to spit and not swallow toothpaste (usually not before age two), begin brushing the teeth with a pea-sized amount of toothpaste. The American Dental Association recommends fluoride toothpaste; ask your dentist about your child's fluoride needs.
Brush your child's teeth until he or she is at least six years old.
Place only formula, milk or breastmilk in bottles. Avoid filling the bottle with liquids such as sugar water, juice or soft drinks.
Infants should finish their bedtime and naptime bottles before going to bed.
If your child uses a pacifier, provide one that is clean — don't dip it in sugar or honey, or put it in your mouth before giving it to the child.
Encourage children to drink from a cup by their first birthday and discourage frequent or prolonged use of a training (sippy) cup.
Encourage healthy eating habits that include a diet with plenty of vegetables, fruit and whole grains. Serve nutritious snacks and limit sweets to mealtimes.
Ensure that your child has adequate exposure to fluoride. Discuss your child's fluoride needs with your dentist or pediatrician.
When your child's first tooth appears, talk to your dentist about scheduling the first dental visit. Treat the first dental visit as you would a well-baby checkup with the child's physician. It's beneficial for the first dental visit to occur within six months after the first tooth appears, but no later than your child's first birthday. Although this may seem early, starting early is the key to a lifetime of good dental health.
---
Q: How can I fix my smile?
A: A smile can be the most eye-catching feature of a face. With dentistry's many advances, you no longer have to settle for stained, chipped, or misshapen teeth. You now have choices that can help you smile with confidence. Even the most subtle change in your smile can make a dramatic difference in the way you look and feel about yourself. Talk to your dentist about the options most suitable for you, what your expectations are and the dental fees involved.
Some options are:
Tooth whitening (bleaching) brightens teeth that are discolored or stained. Bleaching may be done completely in the dental office or the dentist may dispense a system for you to use at home.
Bonding can improve the appearance of teeth that are chipped, broken, cracked, stained, or have spaces between them. With bonding, tooth-colored materials are applied, or bonded, to the tooth surface.
Enamel shaping involves modifying teeth to improve their appearance by removing or contouring enamel. The process, which often is combined with bonding, usually is quick and comfortable and the results can be seen immediately.
Veneers are thin custom-made shells designed to cover the front side of teeth. Made of tooth-colored materials, veneers are used to treat spaces between teeth and teeth that are chipped or worn, permanently stained, poorly shaped or slightly crooked.
Braces are not just for kids. Orthodontics may be needed if teeth are crooked, crowded or do not meet properly. If your dentist thinks you should see a specialist for treatment, he or she will refer you to an orthodontist.
---
Q: What are porcelain veneers, and how can they improve my smile?
A: There's no reason to put up with gaps in your teeth or with teeth that are stained, badly shaped or crooked. Today a veneer placed on top of your teeth can correct nature's mistake or the results of an injury and help you have a beautiful smile.
Veneers are thin, custom-made shells crafted of tooth-colored materials designed to cover the front side of teeth. They're made by a dental technician, usually in a dental lab, working from a model provided by your dentist.
Veneers may be used to fix the following conditions:
Misshapen teeth
Gaps or uneven spaces between teeth
Worn or chipped teeth
Slightly crowded teeth
Severely stained of discolored teeth
Getting veneers usually takes only two dental visits. The first visit will be to shape and take an impression (mold) of your teeth. And the second visit will be to carefully fit and bond the veneers to the teeth.
Veneers are an excellent way to dramatically improve your smile in just two dental visits.
---
Q: What does my dental insurance cover?
A: Insurance companies offer a wide variety of plans to you or to your employer. The most common plans found today are called preferred provider (PPO) plans.
A preferred provider is a dentist who has signed an agreement with your insurance company to provide discounts to their enrollees. All the dentists at Wendover Dental Care are ppo providers for all the local plans.
If you have questions about your plan benefits, please refer to your booklet or you can call the office @ 665-2962 and Cathy will be happy to answer any questions you may have.
Below are a few of the local plans and their benefits.
Peppermill, Montego, & Rainbow
Annual dental maximum $1000.00 for each family member
Orthodontic maximum $1000.00 lifetime (Children only)
Annual deductible $50.00 per person but not more than $150.00 per family
Preventative covered at 100% with no deductible, (2 check-ups a year at no cost to you)
Basic covered at 80%, deductible applies
Major covered at 50%, deductible applies
Wendover Nugget
Annual dental maximum $1000.00 for each family member
Annual deductible $50.00 per person but not more than $150.00 per family
Preventative covered at 100% with no deductible, (2 check-ups a year at no cost to you)
Basic covered at 80%, deductible applies
Major covered at 50%, deductible applies
Graymont Western
Annual dental maximum $1500.00 for each family member
Orthodontic maximum is $1500.00 lifetime (Adults & children)
Annual deductible $25.00 per person but not more than $50.00 per family
Preventative covered at 100% with no deductible, (2 check-ups a year at no cost to you)
Basic covered at 80%, deductible applies
Major covered at 50%, deductible applies
Intrepid
Annual dental maximum $2000.00 for each family member
Orthodontic maximum is $3000.00 lifetime
Annual deductible $50.00 per person but not more than $150.00 per family
Preventative covered at 100% with no deductible, (2 check-ups a year at no cost to you)
Basic covered at 90%, deductible applies
Major covered at 60%, deductible applies
Smith's
Annual dental maximum $2000.00 for each family member
Orthodontic maximum is $1500.00 lifetime
Annual deductible $100.00 per person but not more than $150.00 per family
Preventative covered at 100% with no deductible, (2 check-ups a year at no cost to you)
Basic covered at 80%, deductible applies
Major covered at 60%, deductible applies
Elko County School District
Annual dental maximum $1500.00 for each family member
Annual deductible $100.00 per person but not more than $150.00 per family
Preventative covered at 80% deductible does apply
Basic covered at 80%, deductible applies
Major covered at 80%, deductible applies
State of Nevada
Annual dental maximum $1000.00 for each family member
Annual deductible $100.00 per person but not more than $300.00 per family
Preventative covered at 100% with no deductible, (2 check-ups a year at no cost to you)
Basic covered at 75%, deductible applies
Major covered at 50%, deductible applies
West Wendover City
Annual dental maximum $1500.00 for each family member
Orthodontic maximum is $1500.00 lifetime
Annual deductible $25.00 per person but not more than $75.00 per family
Preventative covered at 100% with no deductible, (2 check-ups a year at no cost to you)
Basic covered at 80%, deductible applies
Major covered at 70%, deductible applies
State of Utah
Annual dental maximum $1500.00 for each family member
Orthodontic maximum is $1500.00 lifetime
Annual deductible $50.00 per person but not more than $150.00 per family
Preventative covered at 100% with no deductible, (2 check-ups a year at no cost to you)
Basic covered at 80%, deductible applies
Major covered at 50%, deductible applies
Tooele County School District
Annual dental maximum $1500.00 for each family member
No annual deductible
Preventative, Basic, & major all paid at:

70% -- 1st year
80% -- 2nd year
90% -- 3rd year
All categories covered at 100% 4th year on the plan
City of Wendover
Annual dental maximum $1500.00 for each family member
Orthodontic maximum is $1500.00 lifetime
Annual deductible $50.00 per person but not more than $150.00 per family
Preventative covered at 100% with no deductible, (2 check-ups a year at no cost to you)
Basic covered at 80%, deductible applies
Major covered at 50%, deductible applies
Tooele County
Annual dental maximum $1000.00 for each family member
Orthodontic maximum is $1500.00 lifetime
Annual deductible $50.00 per person but not more than $150.00 per family
Preventative covered at 100% with no deductible, (2 check-ups a year at no cost to you)
Basic covered at 80%, deductible applies
Major covered at 50%, deductible applies
---
Ask the Dentist